CCTV/ SECURITY CAMERAS
At Micro Systems, whether Residential or Commercial, we offer several options that will suit your needs based on your budget and application.  We DO NOT oversell to our customers.  In other words, we will only recommend solutions that are practical for you and fall within your budget.  That's why we get so much repeat business – we are a business based on integrity and quality of service.  We proudly serve the businesses of Amherst, Williamsville, Lancaster, Tonawanda, Orchard Park, Clarence, and all of Western New York!
Pricing

In today's market, everything comes down to the bottom line – so let's get right to it.  At Micro Systems, we sell you a solution that will work for you month in and month out.  We don't monitor your premises, we don't charge monthly maintenance fees or administrative fees.  We quote you a system that will meet or exceed your expectations at an affordable price.  If you need upgrades, call us and we will be right there to get you where you need to be, otherwise we will not try to upsell you something you don't need or want.
Camera Options
We understand our customers and realize one of the greatest needs is how quickly can I get at my recorded or live data.  ALL our camera based security systems have the capability to provide you – the end user- the ability to remotely view live or playback images through your computer any most smart phones.  And if you desire to take an instant snapshot or download a recorded video clip to your flash drive, that's possible to!
Analog or Digital?
We offer either analog or digital camera options.  Based on your specific needs, we will provide you with a quote that best matches your needs.  Whether 4 or 32 cameras, motion activated recording or 24 x 7 recording, we have a solution for you.
Security cameras have improved significantly over the past couple years.  We can upgrade your existing equipment with newer cameras that will markedly improve your viewing quality.  In many cases, we can reuse some of your existing wires and /or equipment.  Digital cameras will clearly provide you with the most versatile options including digital zooming in on live or playback images.
Indoor or Outdoor Cameras?
Cameras today come in many shapes, sizes, and configurations.  In Buffalo, we have some harsh winters, but no worries – our Outdoor rated cameras can handle the worst weather and continually provide you with high quality images.  Additionally, there are now cameras available that have infrared sensors that will allow you to record in complete dark rooms ar at night outdoors.  If you have a unique setting which is very bright behind the object – we can adjust those settings specifically for each view.
We don't offer "cookie cutter" one size fits all solutions.  We will assess your specific workplace and propose a solution with camera angles that cover the area you need covered.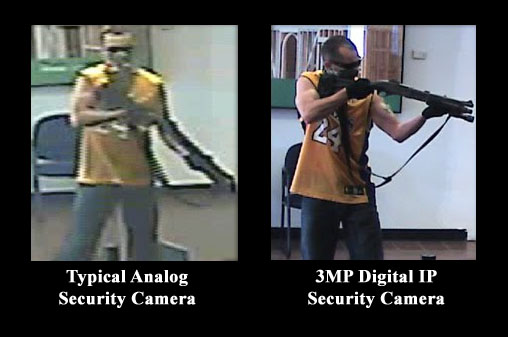 DVR or NVR?
Today, you can choose to stay with the older DVR equipment(analog) matched with some newer analog cameras that will provide many customers with an end result that is perfectly acceptable.
The newer NVR equipment supports the newer digital format cameras. These come in various resolution options – much like a digital photo camera does that you would use for your family photos.  The higher the  resolution (measured in megapixels), the better quality the image and the greater range of zooming in without any "pixelation" of the subject.
To further complicate matters – a new option is also available which many are calling Hybrid.  The Hybrid Recorder will allow you  to keep your existing analog cameras while adding newer digital cameras into your system.  This gives you the best of both worlds.
CALL US TODAY TO SET UP AN APPOINTMENT FOR A FREE QUOTE! 716.830.0037
We also offer Access Control devices to help secure your perimeter doors and provide access to employees, clients, vendors or other visitors.  Whatever you're looking for – we can provide you with a solution that works for you!  Need to only allow access to certain parts of your building to only pre-approved individuals? No problem!  How about unrestricted access during normal business hours, but automatically lock the door after closing?  Yep.  You can implement as simple or complex a system as you need – they are completely modular and easily upgradeable.    At the end of the day, you optionally have the capability to review any access detail you desire for each entry/exit.
From Door activated release mechanisms, video intercom systems, or employee badge access systems – we can do it!